Friends of Blandford Community Hospital
Past Events
In 2017 we held 7 events, all raising funds for Hospital and health related projects throughout the local community.
The most popular and profitable event of the year was the Autumn Fair in October, raising over £7,700.  Our bingos provided much enjoyment and a steady income throughout the year.  The Golf Day that we are now holding annually has gained momentum and become very popular locally providing another fantastic income source. In 2017 our golfers raised £2309.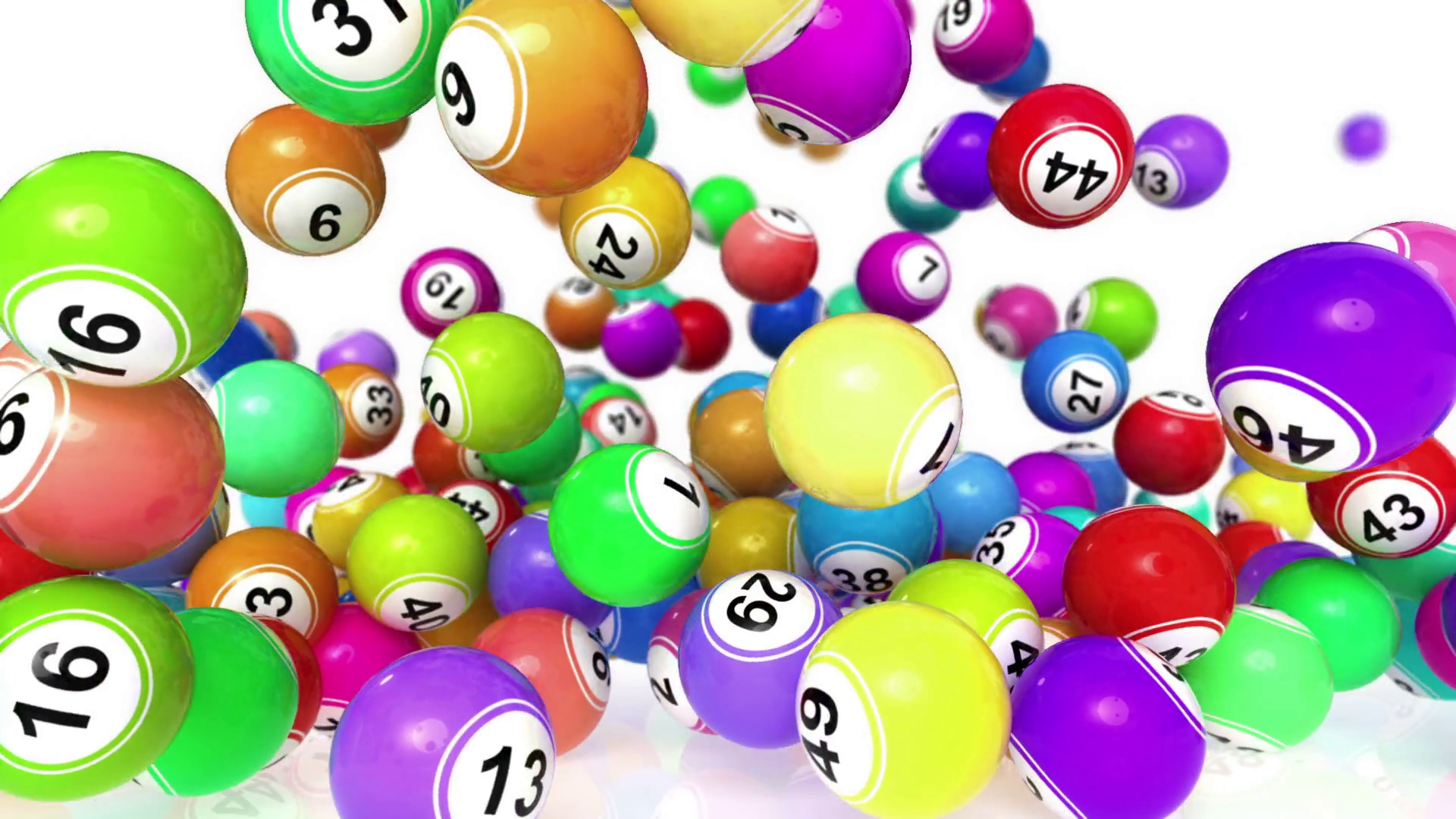 In 2017 we held 5 bingos at the hospital and on each occasion had virtually a "full house".  Our prizes are great and we provide a very friendly welcome to players, regular and new. At Christmas we were very pleased to offer all of our guests a complimentary mulled wine or juice and mince pie to boost the Christmas Spirit before getting down to the numbers and sending home a lot of happy folk laden with hampers and other goodies.
In 2018 bingos have again been very successful and we are now looking forward to the Spring Bingo in March 2019.  See details under current events. Do join us!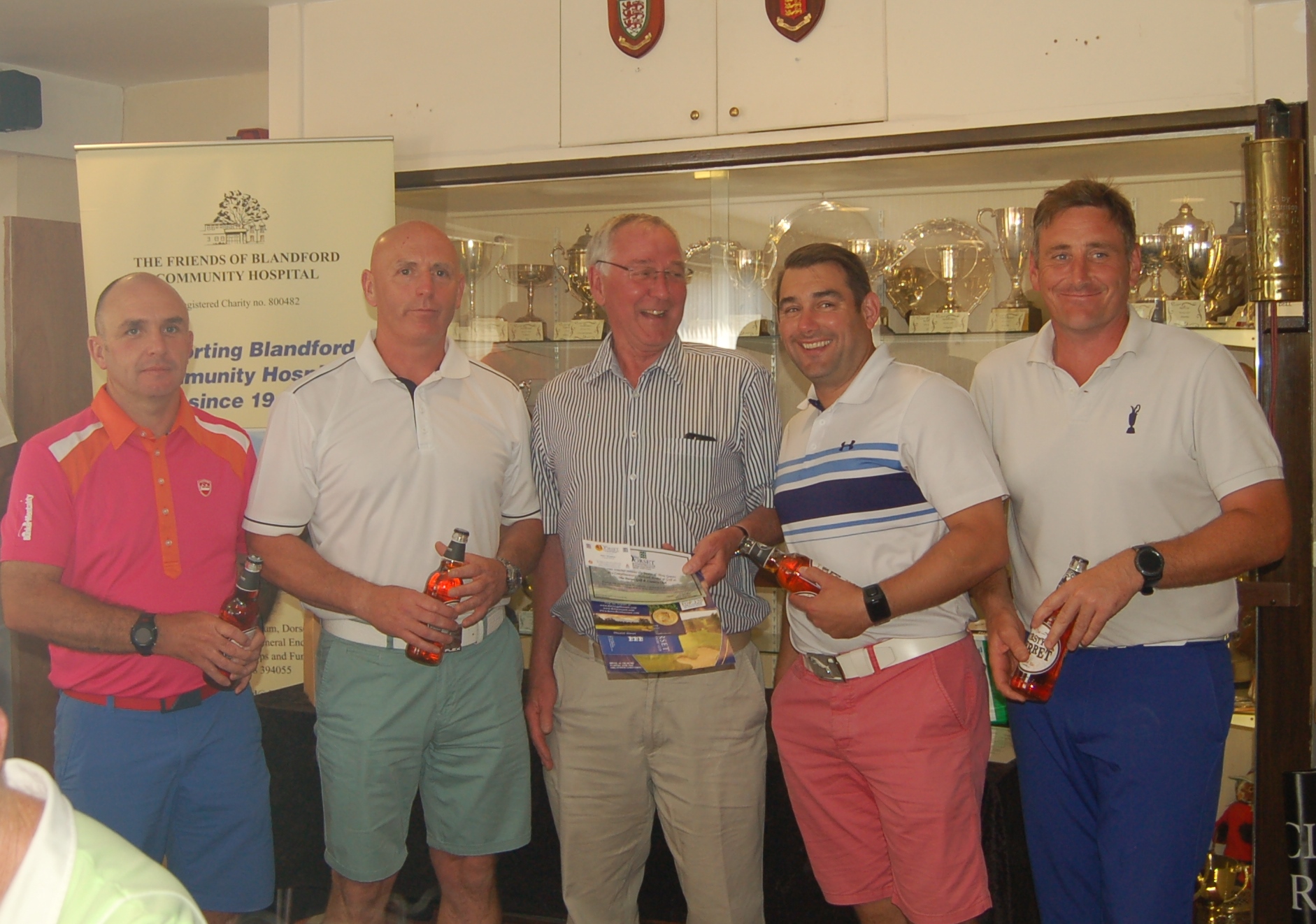 In 2017 our Golf Day took place for the third year and we now seem to have found a proven formula for success.  Support and Sponsorship was gathered from local businesses and 21 teams of 4 enjoyed 18 holes, some individual competitions and a fantastic meal in the clubhouse at the end of play. Ashley Wood Golf Club prove to be great hosts every year and their course provides many challenges whatever the weather and whatever your handicap.
In 2017 the Golf Day raised a net profit of £2310, and sent home a lot of happy golfers. Result!
Once again in 2018 we enjoyed a bright and very hot day so the Pimms and Juice at the 18th went down very well!  Our 22 teams had great fun and helped us raise over £2,500. Many of those teams have already registered for our next event on 14th June 2019.
Pictured here are the chaps from the Blandford Garrison Golf Society who were the 2018 overall winners being presented with their prizes by Chairman on fundraising, Mike Wood.
Why not complete the Golf Entry Form and join us on our next Golf Day 2019.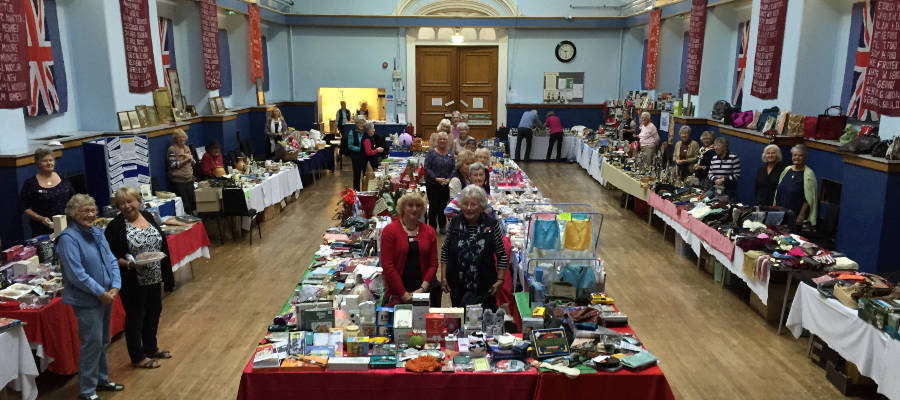 2018 was a record breaker of a year for an event that has grown and grown in popularity locally.  The event (including the associated Grand Raffle) generated income of £10,027, resulting in a net profit in the region of £9200.
More importantly, the Autumn Fair takes our charity in to its home town.  Council Members and volunteers received countless compliments on the Fair itself but also, and most importantly, on the work of the charity both in supporting our wonderful community hospital but also the services we are able to provide locally.
To quote one visitor, "Your Fair is the best event in the Corn Exchange all year and we look forward to it every year"!
Many a visitor had to make a return trip to the car or the cashpoint with their bargains and advance Christmas Shopping!
This event is a prime example of teamwork and how important it is amongst the Friends of Blandford Hospital Volunteers.  Over 60 volunteers are involved over 2 days to stage the event and many of those put in countless hours throughout the preceding months gathering and pricing goods. Without that teamwork the event simply wouldn't happen.  Without a wonderful team, all working so hard and happily together for the cause the charity would simply not be the same.
Next year we do it all again on 19th October. We hope to see you there!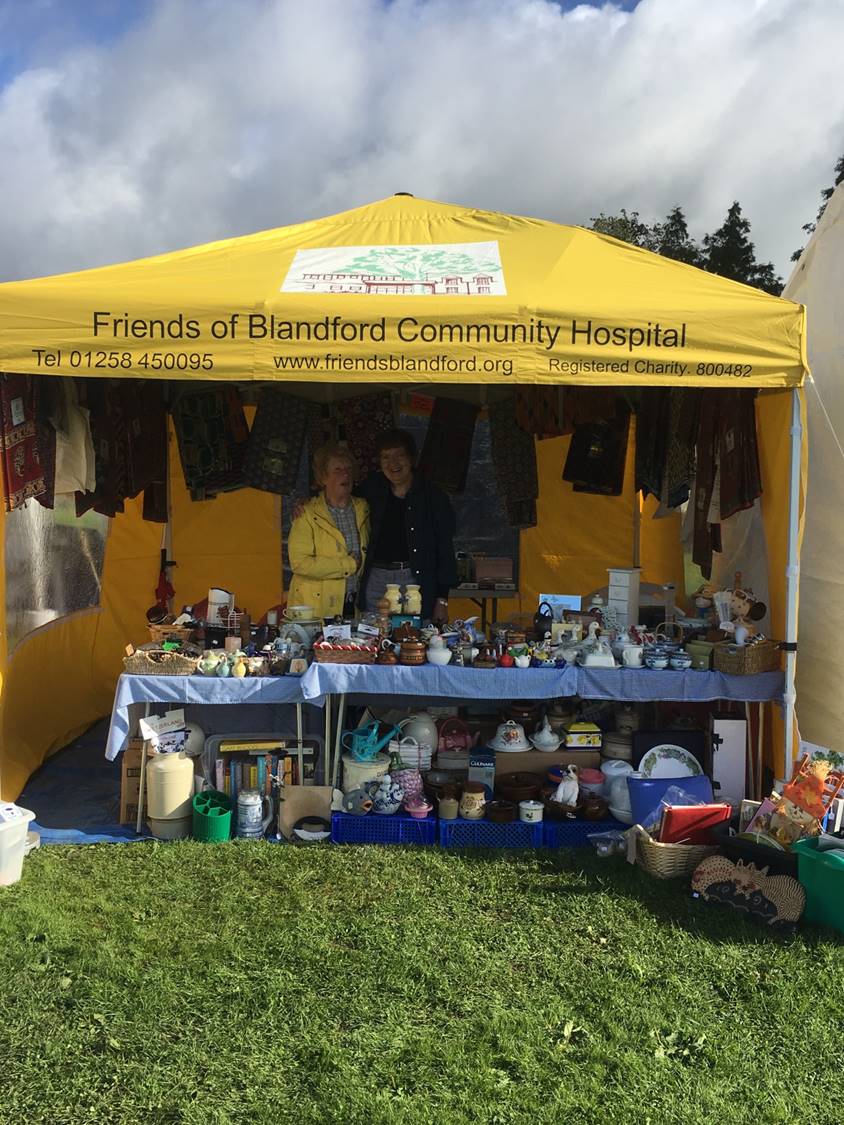 Our Sturminster Shop team really enjoys taking part in the Sturminster Newton Cheese Festival and in 2017 our pop up shop appeared once again.  The weather provided it's challenges but that didn't stop our volunteer team and they raised £700 over the weekend. The photo is taken in the sunshine as we opened up on Saturday morning.  It wasn't quite such a pretty site in the wind, rain and mud of a very challenging Sunday but our volunteers were still smiling and doing their best, in the very best of humour.  Mud washes out after all and the show must go on!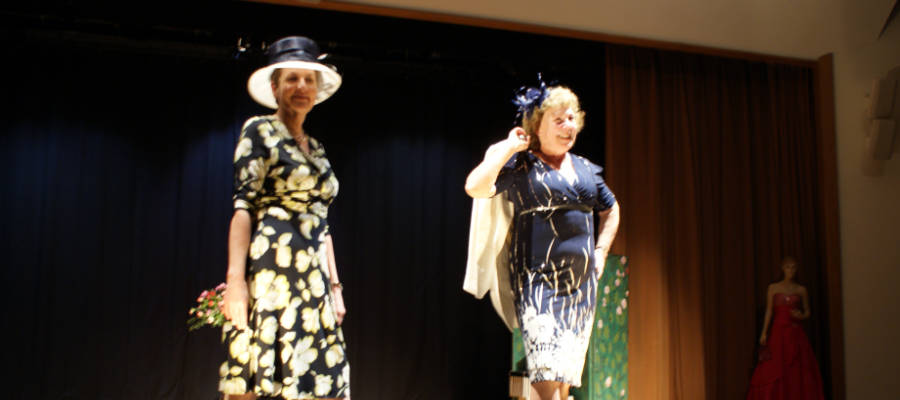 The Friends of Blandford Hospital held their "New to You" Fashion show in The Exchange, Sturminster Newton on Friday 16th March.  The event, organised by a team of volunteers led by Linda Prior, was very well supported and proved to be a most entertaining evening.  Previous volunteer models were joined by some very entertaining debutants to the cat walk to show a wide selection of clothing.  Everything on display had been donated to the Charity's very successful shops in Barnack Walk, Blandford and Innes Court, Sturminster Newton. The Clothing and accessories, and much more, was on sale after the show and also on the Saturday morning.
Not only was the event a great opportunity to showcase just what the hospital charity shops have on offer every day, it was a very profitable weekend for the charity raising in the region of £1750.  As with all of the Friends of Blandford Hospital events, it would not be possible without the support of a great number of volunteers working as a team and the Charity would like to thank everybody that was involved in so many ways.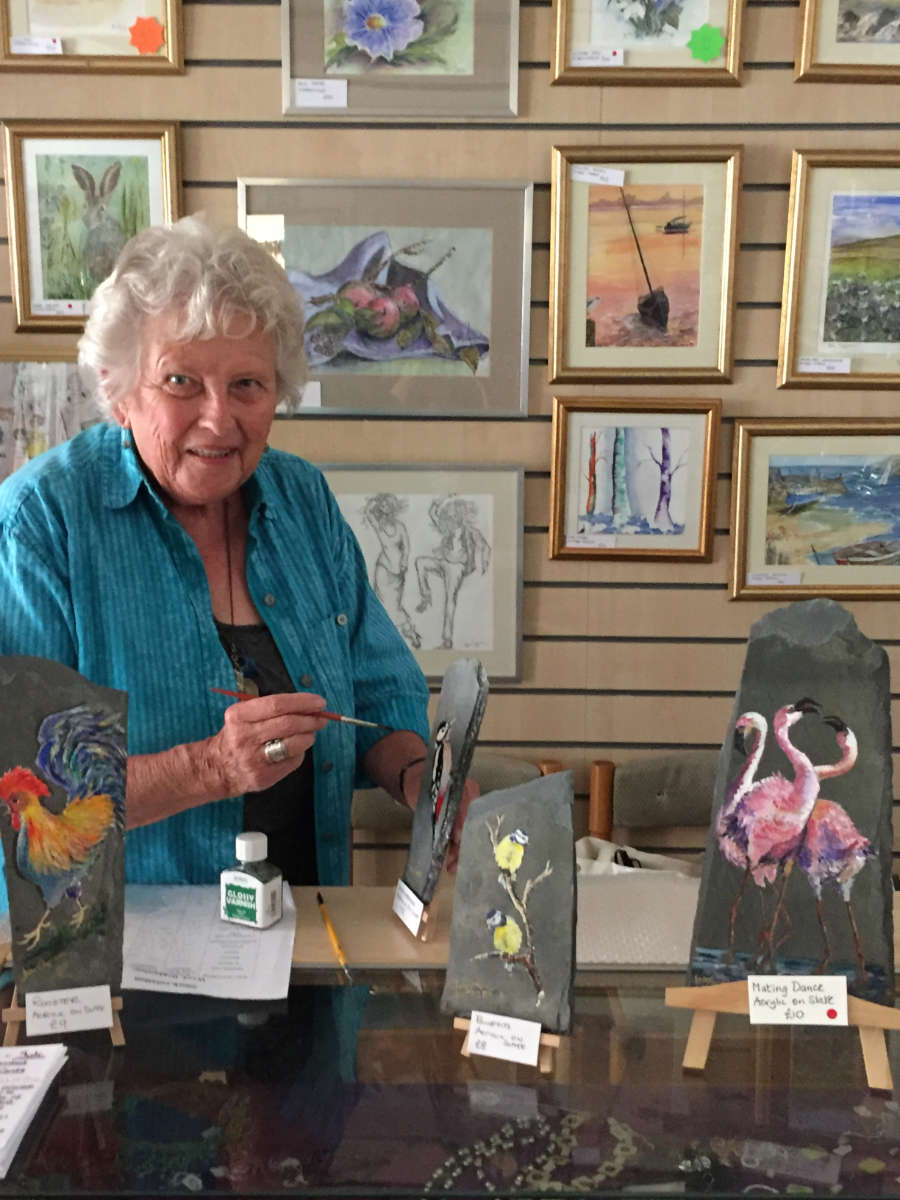 Affordable Art 2018. A display of incredible talent....
Dining Room, Blandford Hospital
We are delighted to say that the Affordable Art Exhibition recently held in our Blandford Forum Charity shop raised an incredible £1427.25.  All the pictures and greetings cards were locally painted and mainly contributed by Joan Capron who is a volunteer in the Charity Shop.  Joan's work was priced from 30p to £30 so to reach that grand total involved a huge amount of work in so many different styles.
We would like to thank Joan, her friends and volunteer colleagues who made the exhibition such an overwhelming success.  The monies raised will be used to support the valuable work done by the "Friends" to support the hospital and throughout the local community.